Posted by AN PHIL on 2021 Feb 3rd
Have you been spending a lot of time indoors this past year? Do you feel overwhelmingly isolated and trapped?
If you answered "yes" to these questions then I have a life changing product that I am certain you will fall in love with. The Paint by Numbers Kits are an amazing way to spend your time and accompany you when you feel alone!
There is a wide variety of beautiful pre-designed kits to choose from. The selection is huge so everything you would want to paint is probably already an option.
---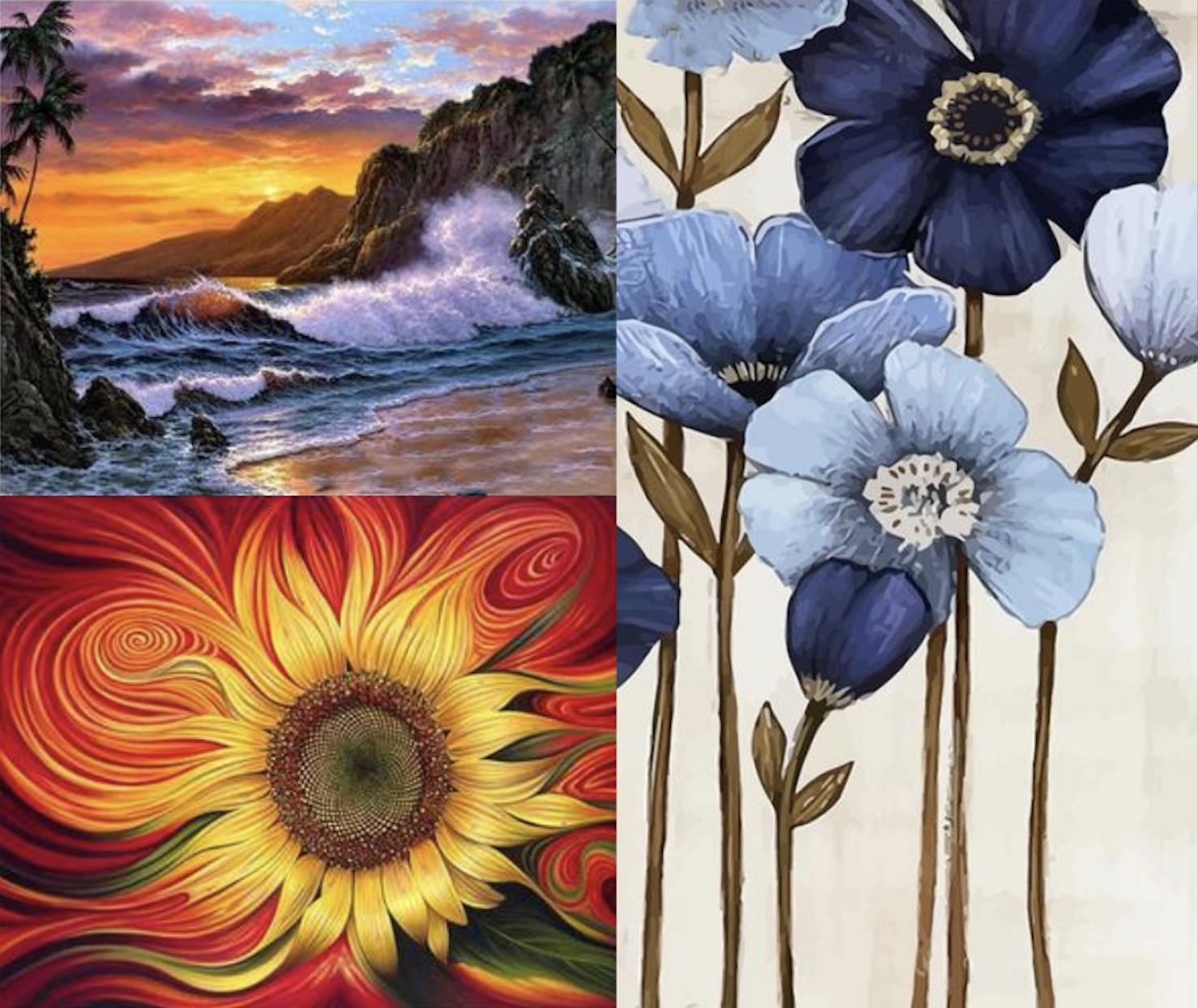 ---
My Story:
I am an extroverted individual, from the moment I could talk till now in my early 20s, I was always described as a 'social butterfly.' Being a young adolescent who got trapped into the four walls of confinement - my house - due to the coronavirus, it took a large toll on my mental health and well-being. As days turned into weeks and weeks turned into months of quarantine, I could physically feel bits and parts of myself slipping away. Getting out of bed everyday felt like a chore. My appetite plummeted and I was only living off of one small meal a day. I remember weighing myself and seeing that I lost 15 lbs in a month, and that may not seem like a lot, but I was a 19 year old girl who now weighed under 90 lbs, so it was a little scary. I was self destructing right in front of my own eyes, yet I was completely content with just letting it happen.
My older sister called me up around mid-December 2020 to check up on me and she could see the bags under my eyes and the evident loss of weight that occurred. She understood the toll that isolation took on me and so she decided to do what she thought would help me recover. I lived 2 hours away from her, so there wasn't much that she could do due to the distance, so instead she ordered me 3 Paint by Numbers Kits and herself 3 Paint by Numbers Kits. She facetimed me every night and we would accompany each other while we cooked. Each day after we finished cooking, we would sit in our beds, eat, and slowly work towards completing the kits together. I can't help but laugh now, looking back at all the memories that were made just from this simple and easy kit. The painting allowed me to relax, calm down, and focus on something. Before, I didn't feel as though I had a purpose in life and that there was no end goal in sight, but when I started painting I could see the image beginning to come together. For the first time in a long time I began to look at the bigger picture and remember that I am not going through life alone. I feel as though the Paint by Numbers Kits not only acted as a bridge to bettering the depression I was in, it also allowed me to build a bond with my older sister that was never there before.
---
There are many reasons as to why Paint by Numbers Kits have the ability to heal you mentally, and I thought it would be beneficial to list a few reasons as to how and why painting achieves this below.
fdf
Art distracts you from stressors
Creating art can take your mind off of whatever is stressing you, at least for a few minutes. It's difficult to keep ruminating on your problems when you're focused on creating. If your problems stay with you, you can incorporate them into your creations. Once you're done, you should have a clearer head with which to tackle your problems again.
Painting is a form of self care
Sometimes, with all of life's responsibilities, we forget that we need and deserve downtime and self-care. Taking even a few minutes on a regular basis to devote to a hobby can give you more of what you need in this area. With art, you have the additional benefit of being left with something beautiful (or at least interesting) to show for it.
Art therapy relieves stress
Research at Harvard shows that creative activities such as drawing and painting help to relieve stress, help in communication skills, and stop cognitive decline as you age. The team discovered that creative arts are used intentionally to provoke therapeutic change, and help patients effectively manage traumatic experiences. Over 80 per cent of the studies the team looked at found significant improvement in problems related to stress.
---
One of my personally favorite aspects of the Paint by Numbers Kits is the abundant variety of paintings to choose from. With the hundreds of options, you can't get bored of it. Not only is this kit amazing when it comes to bonding with family, but it is also an amazing gift that can be gifted to loved ones, or completed for a date night. The kits make painting a breeze and will have you feeling like the next Picasso.
The Paint By Numbers kit is an amazing and effective way of showing someone just how much you care about them.From a personal experience, the Paint by Numbers Kit truly saved my life, and maybe it could help you or someone you know too. Shop today and maybe it'll change your life like it did for mine.
---